SF09 – Circularity Economy Implementation Feasibility Study – Local Action Group
9 de November de 2021
Here you can find the results of a collaboration project with a local action group in Navarra (Cederna Garalur) related to the feasibility study for the implementation of circular economy in the region.
The following one page shows main results and conclusions of technical feasibility studies in sustainability and circular economy of different local business initiatives in Navarra, Spain.
Business initiatives analyzed were:
Project 1: Rural Accommodation Association
Project 2: School Canteen
Project 3: Slaughterhouse Quartering Room
Project 4: Animal Care Residence
Project 5: Waste Collection Association
Finally, general conclusions for the Local Action Group are identified, as follows:
Guides and tools for projects development are recommended
It is needed to define a process for the development of road map for the sustainable development of territory
Click on the image to see the full content.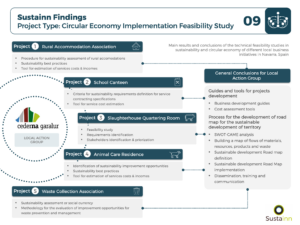 Share: