SF11 – Life Cycle Sustainability Assessment (#LCSA) – Peppers Jar
9 de November de 2021
Here you can find the results of a Life Cycle Sustainability Assessment of a peppers jar (#LCSA). LCSA comprises the development of 4 steps.
Step 1: Life Cycle Assessment (LCA), where environmental impact critical parameters are showed.
Step 2: Life Cycle Cost Assessment (LCC), where life cycle cost distribution and critical parameters are identified.
Step 3: Social Life Cycle Assessment (SLCA), where social impact indicators are defined for the different stakeholders
Step 4: LCSA – Critical Parameters for Sustainability, where:

A sensitivity assessment is done against critical parameters (costs volatility, transportation distances, EPR guarantee)
Sustainability improvements opportunities are showed (DfS requirements, Carbon Footprint reduction, Develop impact indexes)
Click on the image to see the full content.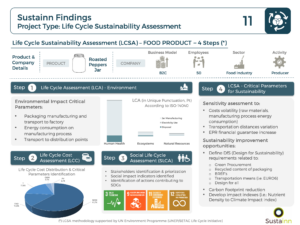 Share: