SF04 – Circularity Assessment Guideline
7 de noviembre de 2021
This guideline facilitates self-assessment of circularity in companies, helping to identify circularity, sustainability and competitiveness improvement opportunities. Project developed with Cámara Navarra.
Circularity Assessment Guideline Objectives:
Create a map of materials, resources and waste streams along the life cycle
Define the life cycle cost structure of products and services
Define sustainability and circularity metrics
Ease adaptation to circular economy trends (legislation, market, sector)
Identify circularity and competitiveness improvement opportunities
It consist of 4 phases:
Phase 1: Assessment of Materials, Resources and Waste Streams
Phase 2: Life Cycle Cost Assessment of the products and services
Phase 3: Definition of Sustainability & Circularity Metrics
Phase 4: Identification of Circularity and Competitiveness Opportunities
Click on the image to see the full content.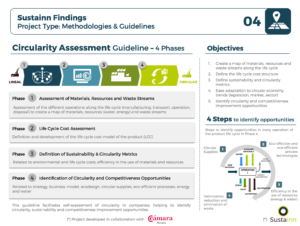 Compartir: