Transformation of Companies towards Circular Economy
9 de noviembre de 2021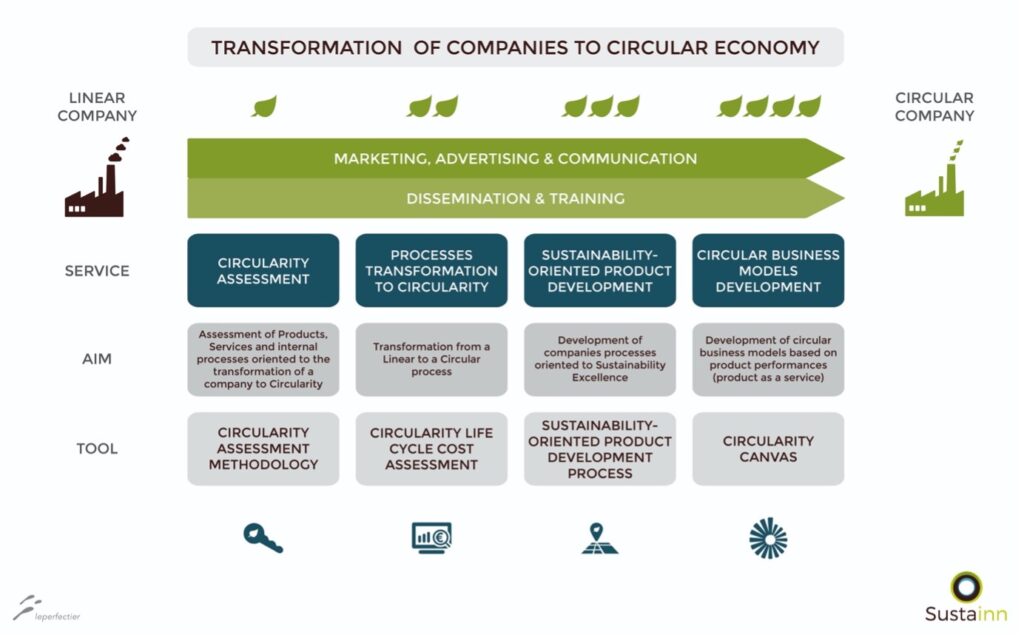 Services and Methodologies to improve Competitiveness on the path to Circular Economy
Sustainn accompanies you, with our services and methodologies, to take steps towards Circular Economy. We help you to improve the competitiveness of your company while contributing to build a zero-waste society and a sustainable and perdurable future. We support you, all along this process, to train your people, and in the marketing and communication strategies to your stakeholders about your achievements and progress towards excellence in sustainability.
We start identifying all opportunities for improvement in the path to become a Circular Company (Circularity Assessment). Afterwards we analyze within your processes all the possible materials and resources recirculations as well as the different waste valorization options, following the Circularity Hierarchy criteria (see "Re-Conception of Systems to improve Competitiveness").
Then we guide you, from the early design stages, to develop sustainable and competitive products, processes and services for the near future.
Finally we help you to develop Circular Business Models based on the service quality and performances (Product as a Service).
Throughout the different steps, we will achieve the following benefits:
– Economic: Optimization of environmental costs and reduction of Life Cycle Cost reducing the risks against volatility of raw materials prices.
– Environmental: Minimization of waste generation and reduction of environmental impact (carbon footprint) ensuring commitment to CSR in the environmental dimension
– Regulatory: Ensuring compliance and adaptation to the European Directives on waste generation and management (ERP, WEEE).
Transformation to Circular Economy is on going…
Already large companies in different sectors around the world have relied on this transformation and have begun their path to Circularity, such as Google, Coca Cola, HP, Ikea, Renault, Michelin, Philips and Unilever (see The Circular Economy 100). They are generating new business opportunities just looking from a circular perspective at the processes and business.
Also the European Commission has shown its commitment to this transformation towards Circular Economy. The Commission stimulates the development of innovative projects exploiting the Horizon 2020 Work Programme for 2016-2017, which includes a major initiative on 'Industry 2020 in the circular economy' with funding of over €650 million.
We are close to help you take steps towards Circular Economy in the continuous search for competitiveness. Follow our future posts where we will give more details of how we can accompany you every step to make the path to Circularity easier.
¡¡ Rethink smart leads to sustainability !!
"The best way to predict the future is to create it". Peter Drucker
Compartir: